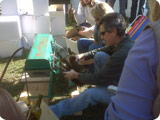 Hey Everyone,
Have you ever seen wine produced from the ground up… in someone's backyard?
I was recently in California for some Hello Vino business, and on Saturday morning, I was able to tag along with some good friends to a friendly, backyard wine club get together.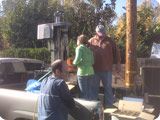 The self-titled group goes by the name Woof Woof Winery, and all their bottle labels are dog themed. For instance, I tasted Clifford Red Wine and The Dogfather Pinot Noir. The group designates "work days" where the members/volunteers of the club show up to help with various activities ranging from a wine press night, to moving juice from grapes into the winery (a.k.a the Dog House).
Our task for the day was to help bottle, cork, and label the most recent vintages of Pinot Noir, Rose (Pinot Noir based), and although it's not wine, a special bottle of Limoncello titled Bitch Blanket Babylon.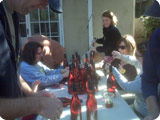 It was really interesting to try each station in the production process. You had a corking machine in the flatbed of a truck that you could man. There was a small bottling station that pumped the wine out (when it got stuck, it needed to be siphoned which created hilarious chances for photos). Lastly, there was a human assembly line to glue, label, wipe down, and case the bottles.
Correction: Note received from Dennis, a Woof Woof member: "It's a screw-cap machine, not a corker. The bottle filler is not pumped, it's gravity flow."
The best part about the whole backyard setup was that it seemed do-able if you were really into making your own wine. Obviously there is some material cost involved, but the wine was actually good and you didn't need a gigantic piece of land to make it! In addition, you would never know this type of operation existed in this backyard. It seems like the creators of Woof Woof have a passionate hobby and some good people that want to help and enjoy the "fruits of their labor."
I found a funny little description from the club's Yahoo! group that explains the loose, good time feel:
It was a good group to mingle with, and for the manual labor, we all got a doggie bag of wine to take home. Pretty cool.
Bordeaux Collie
Benji Barbera
Spike Syrah with the Bulldog from Tom & Jerry

Cheers!
Jim from Hello Vino