Going on a wine tasting tour in Napa, CA can be a few different things:
Extremely Fun
Intimidating
Disappointing
I have to give priority to "fun", because most often you'll meet some extremely friendly people and taste some excellent wine.  Such was the case this past weekend when we started at Cosentino Winery's tasting room (on Highway 29 in Napa).  The tasting room and staff came highly recommended by our hotel concierge, and we left the winery as new members of their wine club.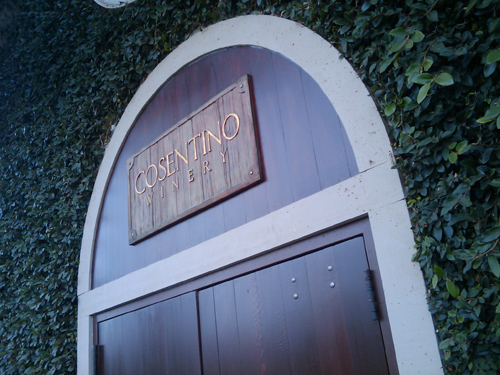 However, first-timers may find the trip intimidating, fearing that they don't know enough "lingo" or enough background on the wineries to get them through the day.  This is understandable, but in 99.9% of the cases, any fears will be swished away by great storytelling, conversation, and of course, vino.
This intimidation can sometimes also lead to disappointment when touring winery tasting rooms.  Some places are too busy to provide personal attention to the travelers, while other tasting rooms simply charge a fee, pour some wine, and go for high turnover.  But, these places are few and far between.  My advice - don't allow yourself to be disappointed.  If you don't feel comfortable at a tasting room, or don't feel like you're being catered to, simply head to the next winery down the road - there are plenty that would love to serve you.
With that out of the way, let's get back to the good stuff.  I'm happy to report that the experience on Saturday was nothing short of perfect, having spent a fair amount of time in a few tasting rooms where each place was super-friendly, very willing to answer questions, and poured some amazing wines.  My favorite of the day - "The Poet" from Cosentino Winery, a blend made in the style of red Bordeaux, and America's first official "Meritage" wine in 1989 (pictured below).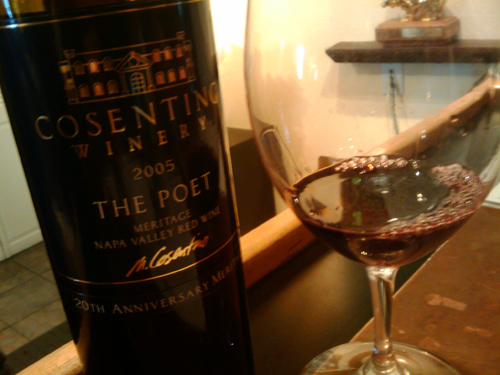 Also helping to create a fun, positive atmosphere was Tim Rossomando, who was pouring our wines at Cosentino and politely answering the myriad of questions we threw at him.  I can't stress enough how a personable and welcoming wine-pourer can make or break a tasting room visit, and Tim was a rock star.  He set the mood of the day, and I can't wait to open one of the four bottles I took home to revisit the experience.
I hope this helps you get excited about the prospect of a wine tasting tour, or even just trying new wines.  Just like the hundreds of wineries in the Napa area, there are hundreds of bottles to discover in your local stores, and each can create a new and positive experience.
- Rick from Hello Vino