Answer: The Bloggers
The earnest points of view from wine lovers with all levels of experience and knowledge (from the casual taster to the primo oenophile) helps people discover new varietals, learn wine terminology, pair wines with food, and so much more. In fact, when looking for tasting rooms to visit in Sonoma this past weekend, we checked out reviews by wine bloggers to help with our decisions.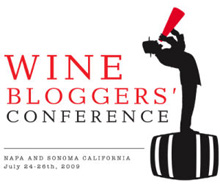 Hello Vino is proud to be a sponsor of the Wine Bloggers Conference Scholarship Fund, a program set up to sponsor wine bloggers with funding to attend the Wine Bloggers Conference this July in Santa Rosa, CA. The WBC Scholarship Fund was created "to encourage the sense of community among wine bloggers, and allow more attendees to participate in this years conference who might otherwise not be able to." A panel of veteran bloggers and wine industry professionals will award the funds to multiple applicants.
As of May 29, the fund has raised nearly $3500.00 towards its $4000.00 goal! This is where you come in.
If you've ever found a wine blog useful, educational, entertaining, witty, or even controversial, here's your chance to thank these individuals for the amazing effort they put forth on a frequent basis.