It's been an exciting week for the Hello Vino team.  Our official press release for our free iPhone app went out early Monday morning, which resulted in some articles, blog posts, and even a feature on MacWorld.com.  But, we were also very excited about a blog post from Brazil!
When we found the blog post by Daniel Perches of the Vinhos de Corte blog from Brazil, we immediately turned to Twitter for help with the translation.  You can see an account of the conversation below (earliest post at the bottom):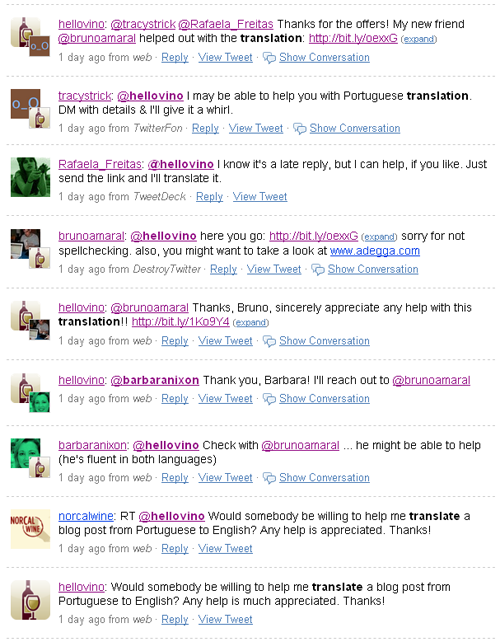 Within 90 minutes, we received a full translation from Bruno Amaral (Lisbon, Portugal), thanks to a Twitter introduction by Barbara Nixon.  He was incredibly generous with his time (Thanks, Bruno!), and we offered to buy him a glass of vinho next time we were in Lisbon. :)  You can read the English translation here.
We also received offers from other Twitter users such as Tracy Strick and Rafaela Freitas to translate the blog post, thanks to our friends' re-tweeting the translation request.  It's so amazing that these people, who we've only known through Twitter conversations, are willing to donate their time and knowledge unconditionally.  It's truly inspiring.
Then, we wanted to make sure we replied to Daniel's blog.  So, we took Rafaela up on her offer, and asked her to help with some English to Portuguese translation.  She kindly and quickly responded with "Sure. Glad to help!"  Here is the message we posted on Daniel's blog:
Hello Daniel, thank you for the review.
I am glad you were able to find a wine pairing for vegetable soup using the free Hello Vino app, I hope you enjoyed the Beaujolais.
I also wanted to let you know that Hello Vino is available on any mobile phone (BlackBerry, Palm, Nokia, etc.).  Simply browse to www.HelloVino.com on your mobile, and you will be directed to the mobile site/app.  Everybody can enjoy Hello Vino!
Thanks again for the review, Cheers!
Rick from Hello Vino
You can read the Portuguese translation provided by Rafaela on Daniel's blog.
On behalf of the Hello Vino team, we'd like to thank everybody on Twitter who helped us.  We are very grateful to be associated with such wonderful people.
Sincerely,
Rick from Hello Vino