Come hang out with us and enjoy a nice little evening
of wine tasting! Join us this Thursday on Tastelive.com to
sip on 3 Robert Oatley wines and let us know what you think.
Hello Vino
and friends will be coming to you live from a
brand new wine bar that's opening in Modesto, CA. More
details a little bit later about this sweet place for those
Tweeps in the area.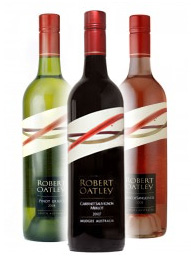 We'll be popping open 3 Robert Oatley wines:
2008 Pinot Grigio
2008 Rosé of Sangiovese
2007 Cabernet (51%) /  Merlot (49%)
These 3 bottles are affordable wines so…
How it's done
: Login or create a new account on
TasteLive.com
. From there, you'll want to
RSVP to the event
on the event homepage.
What's next
: Grab the 3 Robert Oatley wines being tasted.
Tastelive.com tries to select wines that are readily available at stores near you… but you can also go to the TasteLive Marketplace and pick up your selections there. You'll be automatically forwarded to the
retailer in your region.
What to do
: Grab a laptop, or sit at your computer. Go to the
TasteLive.com home page. Follow the #TTL tweets, open wine, tweet
your opinions and tasting notes.
When
: Thursday evening, 5:30pm PST,
www.tastelive.com
or Twitter search #TTL
Keep us posted
: @HelloVino if you'll be sipping along, we'll have a huge surprise to reveal on Thursday. 
Cheers!
Hello Vino