Hello Everyone,
With the crisp Fall weather that has rolled into New England, the apple picking season is in full swing. If you pick apples like many people do on these farms, you know…when you fill hockey bags with apples to last you a year… how do you use them all in different ways before they go bad? What type of apples do you reach out for? A mighty McIntosh, a cool Cortland, or maybe a Macoun? Ever think about the Empires, Jonagold's, or straight up Red Delicious?Many of these apples can be used in interesting ways to create great dishes and desserts. The best part for these fun apple recipes…there's a wine for that.
Butternut Squash and Apple Salad:
Torrontes or Sauvignon Blanc keeps it fresh
Pork Chops with Apple Compote:

Chardonnay with a green apple nose, and flavors of citrus and tropical fruit will enhance the flavors in this pork dish

Pork Chops with Sauteed Apples:

A nice round Pinot Gris is a winner. However, you could go with a fruit-forward Cabernet Sauvignon if you're in the mood for red wine.
Pork with Apple Stuffing:

You could do Riesling here, but I'm actually a fan of red wine with the stuffing. My pick is either a Cabernet Franc or Pinot Noir.

Grilled Chicken with Apple Salsa:

As I wrote this, I told myself I have to try making this dish tonight. A crisp Chardonnay, or Pinot Noir is cool here. However, an interesting choice may be Cotes de Brouilly (varietal: Gamay).

Apple Soup:

Try a Viognier or Sauvignon Blanc to play nice
Apple Pie:
A semi-sweet Riesling is perfect, or add vanilla ice cream and go with Sauternes to make this dessert even better (if that's even possible)
Apple Tart:

Simple, tasty, and calls for Muscat, Viognier, or Riesling
Apple Walnut Crisp:

Another good one here that goes well with a semi-sweet Riesling
We'd love to hear you favorite
food and wine pairings
for the Fall season, and if you try
any of the apple dishes above.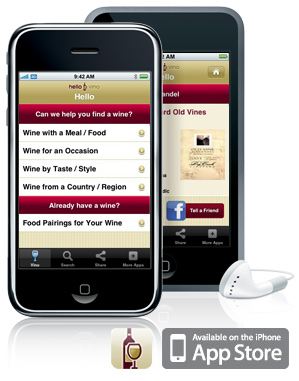 How do you like dem apples ; )
Cheers,
Jim from Hello Vino
P.S. Speaking of apples, you can download the free Hello Vino app for your Apple iPhone.