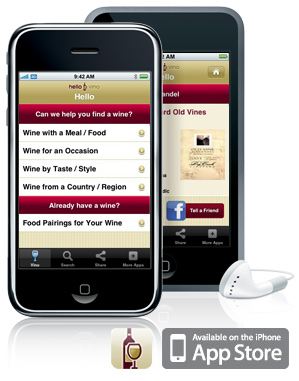 This week, Hello Vino was recommended as one of the Top 5 Wine iPhone Apps by Paul Mabray & Vintank (published on PalatePress.com). Vintank is a digital leader in the wine industry, helping to identify and assess opportunities in technology for wineries. Our mobile app was reviewed by Vintank earlier this year, and we've made several improvements as a result of their original assessment.  We'd like to thank Vintank for their favorable review and consideration of our app:
"Hello Vino's app (the upcoming new release version) is a great tool for a point of purchase (POP) decision when you are looking to match a food with a recommended wine." … "I very much enjoy the applications easy to use navigation … helping consumers choose wines at key buying locations, at the retailer or at the restaurant." - Paul Mabray, Vintank
One of the areas of improvement highlighted in the review was the "database cleanliness" of wines found in Hello Vino. This is a point we are taking very seriously, and have already implemented some major updates to address this. For example…
Search Wines (Ratings & Reviews) from Wine.com
We're excited to announce the addition of wine listings from Wine.com into the "Search" section of Hello Vino.  These results are extremely helpful when thinking about your next wine purchase (in the store or in the restaurant).
Let's say you're standing in the wine aisle, and you see a bottle of Las Rocas Garnacha (sometimes also referred to as Grenache), but you'd like to check out some of the tasting notes or reviews on the wine.  Our search results now display both professional and peer reviews, powered by Wine.com. Simply type in the name of the wine, and click "Search".
Now, you're able to view details about the wine to help you make a confident purchase.  This particular Garnacha received a 90-point score from the Wine Advocate, and a 5-star rating with a short review from a Wine.com customer.
Many More Additions to Come!

We are currently waiting for our big version 1.1 release to be available on iTunes, and it has some very cool features that we hope you'll love.  Of course, we'll continue to improve the Hello Vino app in order to help you discover great wines. Please keep sending feedback on Twitter, on Facebook, or email hello@hellovino.com - we love hearing from you!
Cheers!
The Hello Vino Team
P.S. If you are a winery, and would like to make sure your wines are included in Hello Vino, please shoot us an email.