Hello Everyone,
We have made a lot of friends through Twitter and routinely share
food and wine pairings
, news, and developments concerning Hello Vino. The conversations we've had with fellow winos, the daily questions we receive, and the general community we all belong to has been made our work a ton of fun. The support received through retweets (RT's) and other endorsing messages is amazing to see and we want to thank each and every one of you. We hope to make more friends and continue to chat about wine, food, and life. Now, let's keep it going!We recently announced that the free
Hello Vino iPhone App has made 2 Million wine recommendations in its first 6 months
… which rocks our socks off! In addition to advancing Hello Vino and the
wine guide
experience, we announced that wineries could
enter their wines
into Hello Vino (for free). Prior to this opportunity, an avid supporter of Hello Vino who chats it up with us regularly, and always has kind words is
Cynthia Cosco of Passaggio Wines
.Wouldn't ya know it, Cynthia was the first winery / winemaker to enter product into Hello Vino. So, for being so cool from the start, we'd like to share some information on Passaggio Wines.With a focus on Chardonnay, and keeping Italian winemaking traditions alive, Passaggio offers
New Generation Unoaked Chardonnay
, fermented in stainless steel, that is clean, light and crisp. The 2008 vintage was selected as a recommended unoaked Chardonnay in the San Francisco Chronicle's as well.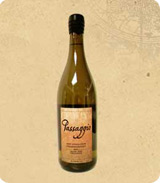 Tasting notes describe this wine as "brilliant pale straw color is sealed with a Zork, offers aromas of pear, slight hint of apple and tropical fruit. The palate is rich with pear, tropical fruit and a hint of lemon-lime. Very crisp and clean on the finish."
Sound pretty good to us!  If you'd like to get your hands on this wine, visit the Passaggio Wines website
Passaggio
recommends Antipasto salad, salmon, chicken and seafood dishes as good food pairings.
Hello Vino
will add Pesto Chicken, Stuffed Mushrooms, or even some Fettuccine Alfredo! Tasty.
Good Wine and a Good Cause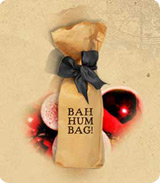 Passaggio is offering a 2009 Holiday Special: This year, Passaggio is doing something special. Instead of the traditional discount on wine to you, they'd like to pass on the savings to those in need this Holiday Season. So, in the spirit of giving, they thought BAHHUMBUG to
traditional savings, let's do something special together….
For every purchase, 10% will go to Passaggio's local shelter "
GRIP
" (Greater Richmond Interfaith Program). GRIP provides support services for homeless families -
www.gripcommunity.org
Very cool…we'll raise a glass to that.
Passaggio has been in business since 2007 and would like to say "Life is Good… Follow Your Passion."Cynthia Cosco
Owner/Winemaker
@passaggio
www.passaggiowines.com
Cheers!The
Hello Vino
Team