I know a few of us at Hello Vino routinely watch shows like Top Chef and Hell's Kitchen to see how some amazing dishes are created… and of course, watch the bickering and drama that the competitions bring to the forefront.
This past New Year's Eve, I planned on staying low-key and making dinner with my wife. We did not go for a massive food and wine challenge, destroy our kitchen, or blow it where we'd have to order pizza down the street. We also did not have a world class chef with colorful language breathing down our necks… although we couldn't resist faking a stern question once in a while and ending with "ya donkey!"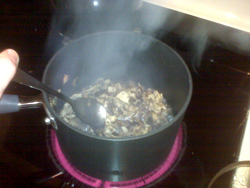 We took a stab at making mushroom risotto. This was delicious, but you have to babysit this puppy the whole way. Grab some tenderloin steak, fresh asparagus spears, and a bottle of Barbera, Valpolicella or dry Merlot and you'll have a restaurant quality meal at home. Let us know (in the comments) if you'll give this a shot!
Mushroom Risotto Recipe
Ingredients (to serve 6)
6 cups chicken broth, divided
3 tablespoons olive oil, divided
1 pound portobello mushrooms, thinly sliced
1 pound white mushrooms, thinly sliced
2 shallots, diced
1 1/2 cups Arborio rice
1/2 cup dry white wine
3 tablespoons finely chopped chives
4 tablespoons butter
1/3 cup freshly grated Parmesan cheese
sea salt to taste
freshly ground black pepper to taste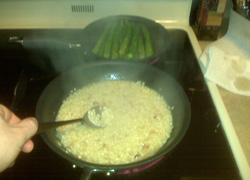 Directions
In a saucepan, warm the broth over low heat.
Warm 2 tablespoons olive oil in a large saucepan over medium-high heat. Stir in the mushrooms, and cook until soft, about 3 minutes. Remove mushrooms and their liquid, and set aside.
Add 1 tablespoon olive oil to skillet, and stir in the shallots. Cook 1 minute.
Add rice, stirring to coat with oil, about 2 minutes. When the rice has taken on a pale, golden color, pour in wine, stirring constantly until the wine is fully absorbed. Then, add 1/2 cup broth to the rice, and stir until the broth is absorbed.
Continue adding broth 1/2 cup at a time, stirring continuously, until the liquid is absorbed and the rice is al dente, about 15 to 20 minutes.
Remove from heat, and stir in mushrooms with their liquid, butter, chives, and parmesan.
Season with salt and pepper to taste.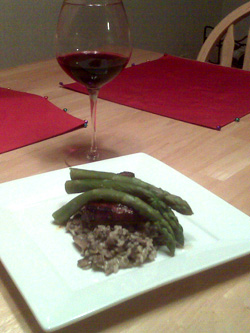 The Meal & Wine Pairing
After making the mushroom risotto, we added our tenderloin marinated in a tangy mushroom sauce, along with the asparagus spears. The meal came out wonderfully, and we paired it up with a dry Merlot.
By the way…
Are you in the Boston area?
If so, we'd love to meet you at the…
Boston Wine Expo
Jan 23-24, 2010 !!
You can still grab tickets to the Wine Expo, held at the Seaport World Trade Center in Boston, MA.  And… we have a discount promo code for a $10 discount for each Sunday ticket:
Enter the code

HELLOVINO

upon checkout
Go to the Boston Wine Expo site
Check out the Grand Tasting and other seminars on Sunday, where celebrity chefs and wine personalities like Mr. Gary Vay-ner-chuk will be dropping knowledge and making wine fun
Use the

promo code HELLOVINO

when you check out (offer good for Sunday tickets only)
Cheers!
Jim from Hello Vino