Hello Everyone,
Placing the formal meaning of Easter aside, this upcoming weekend brings us food, chocolate and family. Easter does not have a fixed date every year, and it also calls for a feast! We love feasts, and there is no fixed wine for your food either. This holiday presents great
food and wine pairings
, and since modern celebrations include the Easter Bunny and Easter egg hunts, let's hop and hunt for some food and wine winners.I'm guessing a large portion of you will run into ham on Sunday. You can be a dinner hero and counter the smoky salt in the meat, and occasional sweetness that many place on the exterior (honey, pineapple, brown sugar) with light, fruity wine that offers low tannin.
What wine pairs with ham?
Pinot Noir
would be a perfect red for ham with honey. If you enjoy white wine,
Riesling
is a good call.
Sauvignon Blanc
is our recommendation for ham with pineapple. The sleeper in the bunch that could please all makes and models (especially spicy ham) is a crisp
Rosé
with its juicy flavors.
Are you a vegetarian?
Have you tried veggie shepherd's pie? A crisp
Chardonnay
or a dry
Gewürztraminer
would be very interesting.Perhaps you are the type that fills up on delicious appetizers? Here are some Easter apps that pair well with wine:
Hot Cross Buns pair well with a semi-dry Riesling
Stuffed Mushrooms pairs well with a dry Merlot
Spinach or Artichoke Dip pairs well with Rosé

We can't forget the Easter basket!
Who wouldn't want to know what wines to pair with Cadbury Eggs, Milk Chocolate Bunnies, and the popular Marshmallow Peeps?
Cadbury Eggs: Cabernet Sauvignon
Milk Chocolate Bunny: Syrah/Shiraz
Marshmallow Peeps: Sparkling Wine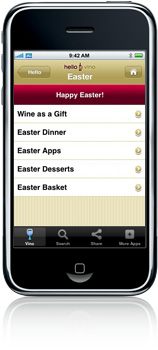 For more Easter wine pairings, please visit us at HelloVino.com or try the Easter Wines & Pairings option in our free iPhone app. Other holiday wine pairings include lamb, desserts, popular side dishes like scalloped potatoes, green bean casserole…and more!
Happy Easter & Cheers,The Hello Vino Team