It's finally ready!!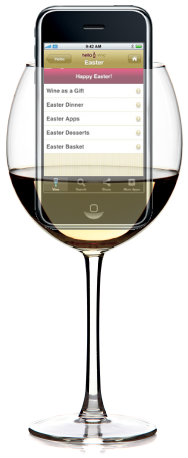 After 5 years in development, we're thrilled to announce the newest feature in our free Hello Vino app:
Now with iDunk Technology
This revolutionary new interface does away with any touching, tapping, or data entry.  Instead, you simply dunk your iPhone into a glass of wine, and you'll receive ratings, reviews, and intimate details about the wine.
Forget Barcode Scanning,
This is IMMERSIVE
The iPhone is all about fun.  Barcodes are so boring (black lines on a white label… yuck!).  With our proprietary iDunk algorithm, the Hello Vino app will be able to tell you important facts about the wine you're drinking, such as:
The true alcohol content of the wine
The winemaker's birth year and zodiac sign
Whether or not the grapes were hand-picked
The geolocation of the source vineyard
Whether or not the wine pairs with asparagus
The distributor's cut of the sale
The Dutch translation of the wine's name
How It Works
After placing the iPhone into the glass, the wine makes it way through the microphone and into the phone's microsensors.  From there, our app converts the liquid to bits and bytes, sending the data to our supercomputer in Antarctica.  Then, the super-smart iDunk algorithm works its magic, and voila - you're provided with everything you ever wanted to know about the wine.
So, there you have it.
We're very excited about this new feature, and we'd love to hear your feedback in the comments below.  Make sure you download the free Hello Vino app today, so you can really impress your date at a fancy restaurant.
Cheers! … and APRIL FOOLS!!
- The Hello Vino Team