Hey Everyone,
In case you haven't heard, we have added wine reviews to the free Hello Vino iPhone app!
By combining reviews from a wide variety of sources, we're aiming to help you discover and experience wines on a whole new level.
Here are some slick features within our new Reviews section:
Feature: Browse Wine Reviews 
Quickly identify wines of interest and who authored the review.
Feature: Mobile-Friendly Format
Read featured articles from within the app no matter where you are. You can also interact with the authors through their profile link.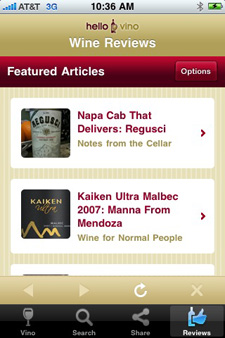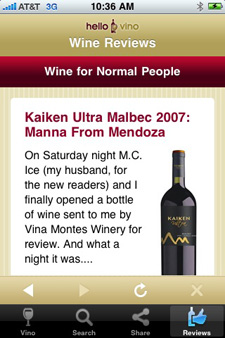 Feature: Save Favorites
Save and re-visit helpful articles, create a library of reviews you liked, and view your favorites at any time under the Options menu.
Feature: Send to a Friend
Share reviews with friends from within the articles! Simply enter your name and email, then the name and email address of who you'd like to send it to, and off it goes!
Feature: Custom Views
You can customize your settings to immediately view your favorite writers, or view the latest reviews.
We are very excited to share professional and peer reviews in Hello Vino, and ultimately help you with wine recommendations.
Contributors include Certified Specialists of Wine (CSW), Certified Wine Educators (CWE), sommeliers certified by the Master Court of Sommeliers, and a wide variety of talented wine writers who share their passion and enthusiasm for wine through web sites and blogs.
We'd like to raise a glass to our first wave of contributors!
Interested in contributing to the Reviews in Hello Vino?
Send us an email: hello@hellovino.com