California produces almost 90% of U.S. wine (source: WineInstitute.com). The most planted wine grapes include Chardonnay (20.1%), Cabernet Sauvignon (16.4%), and Merlot (10.2%), according to the USDA.
But enough about the big boys…
Here are three grapes to get excited about:
Sangiovese, Fumé Blanc, and Zinfandel.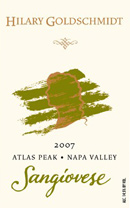 Sangiovese grapes have thin skins and a tendency to rot in dampness. Hot, dry climates work best. Napa Valley is recognized worldwide as a truly exceptional region for growing wine grapes, and it is thought that during the late 1800's, Italian immigrants introduced Sangiovese grapes to California. Sangiovese thrives in Napa as the climate resembles Tuscany (the perfect region for growing Sangiovese grapes).
Distinctly fruity and densely structured, this wine shows a natural balance and supple tannin finish.

Fumé Blanc is made from Sauvignon Blanc grapes. Before the 1970's, Sauvignon Blanc had a bad rap in the United States for being too sweet and boring. Robert Mondavi was inspired by Loire Valley's Pouilly-Fumé (poo-yee foo-MAY) and worked a nice batch of Sauvignon Blanc grapes he had to counteract the sweet and tired reputation the wine carried. Modeling the sublte elegance of the Loire Valley wines, and fusing the wine names together, Fumé Blanc was born. In California, the Dry Creek Valley in Sonoma enjoys daily high temperatures in the mid-80s with frequent late afternoon/evening cooling from the coast. Crisp acidity is maintained in the grape when growing conditions are on the cooler side. This temperature flucuation helps the winemaker decide how to mold the taste of their wine.
This wine is truly delicious with excellent viscosity and length showing more fresh fruit flavors and very balanced acidity.

Lodi, California has a long proud history of producing some of the finest Zinfandel grapes in the state. Nestled between the Sierra Foothills and the San Francisco Bay Delta, Lodi benefits from the distinctive bay breezes that cool the region in the afternoon and evenings. This region and weather ultimately help produce Zinfandel that is ripe, and fruit-forward with soft polished tannins.
Fruit forward aromas of black raspberry and caramel; flavors crescendo into a marvelous mid-pallet, and ending with a rich tongue coating.
Bring Something Different to the Table
Wine is social, and is best served in the company of great friends with excellent conversation. Feel free to take these little tidbits about California and its grape growing regions while trying something a little different than those Cali Cabs and Chards.
To help you save a few bucks, our good friends at WineTasting.com are able to offer free shipping when you order 3 or more bottles - with discounts as much as 30% off! Buy Online Today »
Cheers!
The Hello Vino Team