As many of you know, we now include wine reviews in the free Hello Vino app. We are extremely excited to collaborate with a talented group of writers that include Certified Specialists of Wine (CSW), Certified Wine Educators (CWE), and sommeliers certified by the Master Court of Sommeliers. Over the next few weeks, we will profiling each contributing wine writer beyond the third screen so you can learn more about the author.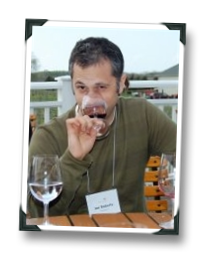 Introducing: Joe Roberts … a.k.a the Dude
Joe lives in Pennsylvania, and when he tackles the subject of wine on his blog at 1WineDude.com, he aims to help you get to know it better, how it's made, how the industry works, and most importantly how to get the most enjoyment out of wine that you can. When Joe is not spending time writing about wine, he plays bass guitar and digeridoo for acclaimed singer/songwriter Steve Liberace.

From the Dude himself:
"Most of the wine world is trying to tell you that in order to appreciate wine, you need to spend tons of money, memorize wine rating scores, and learn names that you can't even spell, let alone pronounce – otherwise, you will look like a total uncultured idiot. The problem is that they're wrong. You don't need to do any of those things to appreciate wine."
Joe has conducted some serious interviews including the one and only Robert Parker, and has a book available called
Wine Tasting Guide, How to Taste Like a Wine Geek.
Priding himself on helping you learn more about wine, Joe's primary focus on his website 1WineDude.com is to a) entertain you b) providing useful information to you, and c) make you laugh along the way. Let's start by agreeing that no matter what you've heard, learning to appreciate wine does not have to be daunting, expensive, or reserved for some strange elite audience with magical noses. The Dude says you can learn to appreciate wine just as you can food, cooking, music, or anything else that you enjoy.

Quick Reviews
Joe also provides Weekly Twitter Wine Mini-Reviews for quick thoughts on specific bottles that include:
The Wine
The Region
A Quick Review
Price
Grade
You will notice that his Twitter Wine Mini-Reviews contain a rating that mirrors the report card A-F format. Here's how those ratings work.

He's Got Cred
Joe holds both the Level 2 (Intermediate, with Distinction) and Level 3 (Advanced, with Merit) Certificates in Wine amp; Spirits from the Wine amp; Spirit Education Trust (WSET) based in England. In addition, Joe is a member of the U.S.-based Society of Wine Educators, holding their Certified Specialist of Wine (CSW) qualification, and belongs to the Wine Century Club. He more-or-less knows his wine stuff and provides serious wine talk for the not so serious drinker (and we dig it).
The Dude has toured the globe (including Alsace, the Rheingau, Pfalz, Rheinhessen, Mosel, Hungary, upstate New York, Long Island, Napa/Sonoma, Oregon/Washington, Canada's Niagara Peninsula, Greece, and South Africa, to name a few) in search of new wine experiences. His writing has been featured on CNBC.com, Mutineer Magazine, Publix Grape Magazine, Palate Press, and Chester County Cuisine amp; Nightlife.
We are excited to have Joe Roberts involved with our wine reviews. Be sure to check out his latest posts within the free Hello Vino app, and on his 1WineDude blog.
Cheers!
The Hello Vino Team